BCAA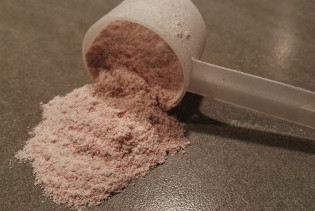 Branched Chain Amino Acids, eller BCAA, som det er mer kjent som, består av de tre aminosyrene Leucin, Isoleucin og Valin. De tre aminosyrene er alle essensielle aminosyrer, som vil si at kroppen trenger å bli tilført aminosyrene via kosten. Navnet Branched Chain Amino Acid kommer av at de tre aminosyrene er de eneste aminosyrene som besitter en forgrenet sidekjede. Av de essensielle aminosyrene i kroppen er 35 – 40 % BCAA, mens mengden i muskelvev er 14 – 18 %.
En diett som består av større mengder protein har vist å øke enzymet som metaboliserer BCAA, denne økningen er også funnet når man tilfører BCAA alene og ved trening. Dette kan tyde på at behovet for BCAA er større for personer som trener, enn de som ikke gjør det.
Forskning tyder også på at det å supplementere med BCAA før trening kan redusere utmattelse. Dette fordi opptaket av tryptofan til hjernen øker under trening (teoretisk sett). Videre øker syntesen av serotonin, noe som øker tretthet og sedasjon. Fordi BCAA transporteres til hjernen på samme måte som serotonin er det antatt at det å tilføre BCAA før trening vil hindre opptaket av tryptofan og dermed redusere produksjonen av serotonin. Noe som igjen vil redusere utmattelse under trening. Generell økning av BCAA i kosten har ikke vist å hindre syntese av serotonin i hjernen, men inntak av isolert Valin rett før trening, har vist seg å være effektivt.
Leucin kan fremme opptak av glukose i noen tilfeller, som når insulin ikke er tilgjengelig. Men dette varer gjerne ikke lenger enn 60 minutter. På en annen side kan Leucin også hindre opptak av glukose i cellene. Dette skjer først og fremst etter at Leucin har signalisert for muskelproteinsyntese, altså etter ca. 60 minutter. Valin har også vist å hemme opptaket av glukose, men raskere enn Leucin. Isoleucin på sin side er kjent for å fremme opptak av glukose til musklene, men glykogensyntese blir ikke økt med Isoleucin, kun opptak og forbruk.
Forskning antyder at Isoleucin og Valin muligens kan øke fettforbrenningen, under glykogenmangel. Aminosyrene demper da mangelen på glykogen under trening, ved at kroppen bruker flere lipider.
BCAA har også vist å bevare lever- og skjelettmuskelglykogen ved tilfeller av akutt trening (sykling). Det er ikke funnet noen endring i glykogen ved hvile.
Noe forskning viser at de tre aminosyrene kan gi bedret insulinfølsomhet og opptak av muskelglukose. Men denne effekten ser ut til å være upålitelig. I annen forskning finner man ingen store forskjeller på insulinfølsomhet, ved å supplementere med BCAA. Men det er vist at BCAA øker blodsukkeret i kroppen og at Leucin kan øke insulinmengden.
Leucin har muligheten til å aktivere en proteinkinase i kroppen som kalles "Target of Rapamycin", og forkortes TOR eller mTOR hos pattedyr. MTOR stimulerer proteinsyntesen (muskelbygging) i kroppen og gir derved en anabol (oppbyggende) effekt. Men mTOR kan også bli aktivert i kroppen på andre måter som med: trening (det refereres her til trening med muskelsammentrekning), insulin, kalorioverskudd (uten å endre ernæring). Samtlige av disse fire metodene kan øke mTOR aktivitet i kroppen.
Proteinnedbryting ser ut til å bli redusert ved trening og inntak av BCAA. Dette kan være en indirekte mekanisme av proteinsyntesen.
Forskning på utrente kvinner viste at BCAA (i et forhold på 2:1:1, mengde 100 mg/kg) økte produksjonen av ammoniakk i kroppen fram til to timer etter trening, og reduserte produksjonen etter to dager. Men etter tre dager var det ingen forskjell mellom gruppen som tok BCAA og placebo. Dette er aktuelt fordi ammoniakk kan promotere trøtthet ved trening. Den samme testen konkluderte med at BCAA reduserte stølhet to dager etter trening. En annen test har vist at en viss mengde BCAA reduserte produksjonen av ammoniakk, men større mengder BCAA økte ammoniakkproduksjonen, og svekket derved treningen (fordi forskning ikke er gjennomført på mennesker, er ikke mengder BCAA oppgitt).
I utrente menn, som fikk et nytt 12-ukers treningsprogram, ble styrken til personer som fikk 4 gram isolert leucin økt med 40,8 %, mens de mennene som fikk placebo økte styrken med 31,0 %. Det bemerkes at individene i testen, hadde en relativt lite proteinrik diett, med 0,9 gram protein per kg kroppsvekt. Testen viste ingen signifikant forskjell på muskel- eller fettmasse.
I en annen test ble trente menn gitt 14 gram BCAA daglig, sammen med et treningsprogram for vektløfting. I løpet av perioden reduserte BCAA fettprosenten med 2,2 % og økte muskelmasse med 4,2 kg. Mens menn som supplementerte med 28 gram whey protein gikk ned 1,2 % fett og økte 2,1 kg muskelmasse. I tillegg ble en gruppe menn gitt 28 gram karbohydrater, noe som gav en reduksjon i fettprosent på 0,6 % og økte muskelmasse med 1,4 kg. Selv om det her virker veldig lovende å supplementere med BCAA så var det flere ting ved testen som en burde være klar over. For det første var ikke dietten til individene kontrollert, BCAA ble blandet med 5 gram glutamin og 2 gram citrulline malate (og muligens vitamin B6), og i tillegg så var testen sponset av et stort kosttilskuddsfirma. Dette er den studien produsenter av kosttilskudd gjerne viser til når de skal selge BCAA og vise at kosttilskuddet har effekt, men på grunn av alle feilene med designet av studient, blir det sett bort i fra av forskere og fagpersoner, og ansees motbevist av andre studier om temaet.
I 2016 ble det også gjennomført en studie av kosttilskuddet BCAA på trente individer, hvor konklusjonen til forskergruppen var at BCAA kan hjelpe trente personer til å beholde muskelmasse under kalorireduserte dietter og også redusere fettprosenten. Men denne studien ble etter kort tid motbevist av et annet forskerteam, da det viste seg at man i studien hadde valgt unaturlige beregningsmetoder for å få resultatene man ville. Når man benyttet de vanlige beregningsmetodene viste det et bedre resultat for gruppen som ikke inntok BCAA på reduksjon i fettprosent.
Det er også forsket på aktiviteter som foregår over lengre tid (6 – 33 timer), som skigåing i fjell, fotturer i fjell og seiling, og effekten av BCAA under slike påkjenninger. En gjennomgående trend ved de tre testene, er at supplementeringen av BCAA har vært i høye doser, gjerne mer enn 50 gram. Testene som ble gjennomført ved seiling og fottur viste en tendens til å redusere mental og fysisk utmattelse, mens testen gjennomført ved skigåing i fjell viste ingen fordeler ved supplementeringen.
En studie publisert i 2017 konkluderte med at BCAA øker proteinsyntese, som resultat av økt aktivering av mTOR, men ikke like mye som en komplett proteinkilde. På grunn av at BCAA kun inneholder tre av 8 aminosyrer som trengs for å bygge muskler, vil en komplett proteinkilde (som proteinpulver, kjøtt, fisk eller andre kilder) gi større proteinsyntese.
Den mest aktuelle studien å kjenne til når det kommer til praktisk bruk av BCAA ble gjennomført i 2014. Denne studien så på bruk av BCAA i 19 utrente menn over 8 uker. Personene i studien trente 4 dager i uken over de 8 ukene. Individene ble delt inn i to grupper hvor en gruppe fikk totalt 9 gram BCAA på treningsdager og den andre gruppen et placeboprodukt. Halvparten av BCAA/placebo ble konsumert/inntatt 30 minutter før og etter trening. Resultatet fra de to gruppene var det samme og studien viste at inntak av BCAA ikke har noen påvirkning på muskel- eller fettmasse.
Anbefaling

Forskningen tyder på at det å supplementere med BCAA kan ha noen fordeler, men kun i enkelte situasjoner, som f. Eks når man er på en diett med (svært) lite proteiner, eller at det går lang tid mellom måltider. De fordelene som BCAA tilfører, vil man også oppnå ved å øke proteininntaket i kosten og drikke karbohydrater under trening. Da BCAA kun er tre aminosyrer er det kun personer som spiser lite av disse aminosyrene som vil kunne oppleve fordeler ved å innta BCAA. Et eksempel på dette er veganere og vegetarianere som gjerne spiser mat og proteinkilder med lite Leucin. Det å supplementere med Leucin (ved måltider) kan da føre til økt aktivering av mTOR og derved økt proteinsyntese.